The recovery and restoration of Ester has inspired Alastair Houston to paint her using old plans and photographs.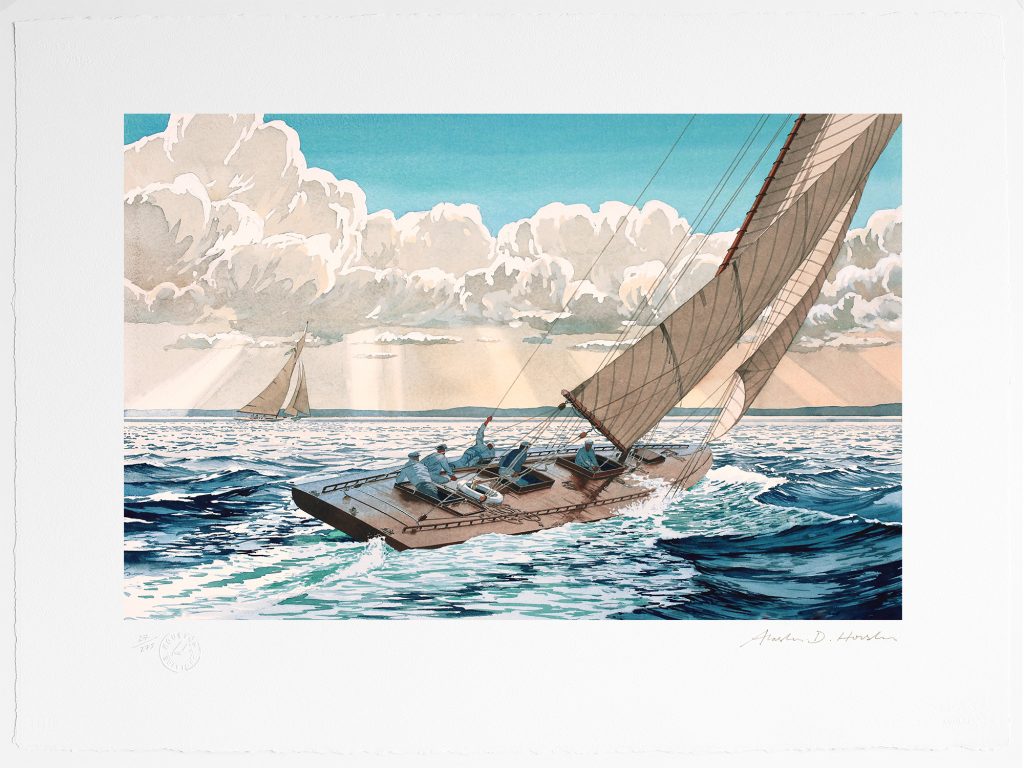 Alastair recounts:
"A few years ago Bo told me about a boat called Ester built in 1901 which had sunk to the bottom of the sea in 1938 near his home town in the north of Sweden. Nobody knew the exact location as it had been so long, in fact it had become more of a story or myth.

Bo told me that he intended to find Ester, I thought it was a crazy idea looking for a boat under the sea that had disappeared decades ago but he persisted with his efforts using side sonar etc.

A few years passed and I got the phone call, 'I've found it!' Not only did he raise the boat (from a depth of 164 ft) but is now making great progress completely restoring Ester to original! What a fantastic story. I have made this painting of her using the old plans and photos. Bo intends to have her sailing in 2018 and visit the classic Med circuit in 2019."
This Limited Edition series of 75 prints has been created to celebrate Ester. Prints are produced using pigment based lightfast inks. Each print is individually produced, signed, numbered and titled by the artist with embossed stamp. Prints are made on exactly the same paper as the original artwork, in this case Arches 640gms rough, arguably the finest watercolour paper available today and made in Lorraine, France, in the original factory since 1642.
Paper size: 76cm x56cm; Image size: 58cm x 39cm.
Each print comes in a presentation folder. If you are interested in this artwork contact the artist at alastair@alastairhouston.com.
You can view more of Alastair's art and purchase his works on his website.